DBot Free Binary Options Trading Bot
Broker Licensed by several authorities
Offices in several countries and continents
Low Minimum Deposit (5$)
Free Demo Account
Trade Forex and Binary Options from the Same Account
Free Demo Account Without Deposit | Free Trading Bots | Free Trading Academy | Free or Paid MT5 Trading Signals
Visit Now
Details
| | |
| --- | --- |
| Broker | DBot by Deriv.com |
| Website URL | https://track.deriv.com/_RAqBFMEhdbO2vdm9PpHVCmNd7ZgqdRLk/1/ |
| Founded | 1999 |
| Headquarters | Deriv Holdings (Guernsey) Limited - Suite 5, One Cornet Street, St Peter Port, Guernsey GY1 1 BZ with Offices in Malta, Isle of Man, Dubai, Malaysia, Paraguay, Cyprus, Rwanda |
| Support Number | +44 1942 316229 |
| Support Types | Email , Phone , Live Chat |
| Languages | English, Español, Français, Indonesian, Italiano, Polski, Português, Русский, Thai, Tiếng Việt, Türkçe, 简体中文, 繁體中文, বাংলা, العربية, 한국어, Deutsch |
| Trading Platform | Proprietary |
| Minimum 1st Deposit | 5$ |
| Minimum Account Size | 5$ |
| Minimum Trade Amount | 0,35$ for Binary Options & 0.01 Lot for Forex |
| Bonus | Free Demo Account Without Deposit | Free Trading Bots | Free Trading Academy | Free or Paid MT5 Trading Signals |
| Payout | up to 200% or more |
| Leverage | from 1:1 to 1:1500 |
| Free Demo Account | Open Demo |
| Regulated | |
| Regulation | Malta Financial Services Authority (MFSA), the Vanuatu Financial Services Commission (VFSC), and the Labuan Financial Services Authority (LFSA), and British Virgin Islands Financial Services Commission |
| Fees | |
| Fee Info | No Fees |
| Commissions | |
| Commission Info | No Commission |
| Account Types | Real Money Account , Free Demo Account Without Deposit |
| Deposit Methods | Credit / Debit Cards , E-Wallets , Bank Transfer , Cryptocurrencies |
| Withdrawal Methods | Credit / Debit Cards , E-Wallets , Bank Transfer , Cryptocurrencies |
| Trading Methods | DBot and BinaryBot – Free Trading Bots: Automate your trading ideas without writing code! 3 pre-built strategies included , FREE zero cost to build , 50+ assets to unleash your bot Start with a popular strategy using DBot or BinaryBot! , Forex , |
| Number of Assets | 50+ |
| Expiry Times | 1 to 10 ticks or 15 seconds to 365 days |
| Types of Assets | Forex, Derived, Stock & Indices, Cryptocurrencies, Commodities |
| Option Types | Digital (Binary) Options - Up/Down – Rise/Fall , Higher/Lower ,  Touch/No Touch ,  In/Out – Ends Between/Ends Outside , Stays Between/Goes Outside ,  Asians ,  Digits – Matches/Differs , Even/Odd , Over/Under ,  Lookbacks – High-Close , Close-Low , High-Low ,  Reset Call/Reset Put ,  High/Low Ticks ,  Only Ups/Only Downs |
| Trading Currency | USD , EUR , GBP , AUD , BTC , ETH , LTC , USDT , USDC |
| Account Currency | USD , EUR , GBP , AUD , BTC , ETH , LTC , USDT , USDC |
| US Traders Allowed | |
| Mobile Trading | |
| Tablet Trading | |
| Overall Score | 9/10 |
Pros
Very Low Minimum Deposit and Small Trade Size
Free Demo Account
Many Deposit / Cash Out Methods
Free Trading Bots
Free or Paid MT5 Trading Signals
Cons
Some countries and not welcome
DBot Free Binary Options Trading Bot: A Revolutionary Tool for Traders
Binary options trading has become increasingly popular among traders worldwide in recent years. However, with the rise of this new form of trading has come an influx of automated trading bots that claim to help traders make profits with little to no effort. Unfortunately, while some of these bots are effective, many are scams that leave traders with empty pockets.
What is DBot?
DBot is a trading bot developed by Deriv.com, a leading online platform. The bot is designed to help traders trade binary options more effectively by automating their trading strategies. DBot uses advanced algorithms to analyze market data and make trading decisions based on predefined rules and conditions.
That's where DBot Free Binary Options Trading Bot comes in. Developed by a team of experienced traders and programmers, DBot is a revolutionary new trading bot that aims to level the playing field for traders by offering a powerful, user-friendly tool that is entirely free to use.
But what makes DBot different from other trading bots on the market? First, DBot is based on advanced algorithms using machine learning and artificial intelligence to analyze market trends and predict future price movements. This means the bot can adapt to changing market conditions and adjust its trading strategies accordingly, making it more effective and reliable than many other bots.
In addition to its powerful algorithms, DBot offers a range of customizable trading settings allowing traders to tailor the bot's strategies to their individual preferences and risk tolerance. This means that traders can choose the level of risk they are comfortable with and adjust the bot's trading parameters accordingly, ensuring they are always in control of their trades.
DBot Free Binary Options Trading
One of the critical benefits of DBot Free Binary Options Trading is its ease of use. The bot is designed to be intuitive and user-friendly, with a simple interface that even novice traders can understand. This means traders can get started with DBot quickly and easily without spending hours learning how to use complicated software.
Another significant advantage of DBot is its transparency. Unlike many other trading bots on the market, DBot is entirely open source, meaning anyone can view and modify the bot's code. This makes the bot more trustworthy and allows traders to customize its functionality to meet their needs.
What are the benefits of using DBot Free Binary Options Trading?
There are several benefits to using DBot for binary options trading:
Saves time: DBot automates the trading process, saving traders time and effort.
Removes emotions from trading: DBot makes trading decisions based on predefined rules and conditions, removing emotions from the trading process.
Backtesting: Traders can backtest their trading strategies using historical market data to see how they would have performed in the past.
Customizable: Traders can customize their trading strategies by adding indicators and rules.
Free: DBot is ee to use, and traders can start using it riimmediatelyClick Here To Open a Free Deriv Account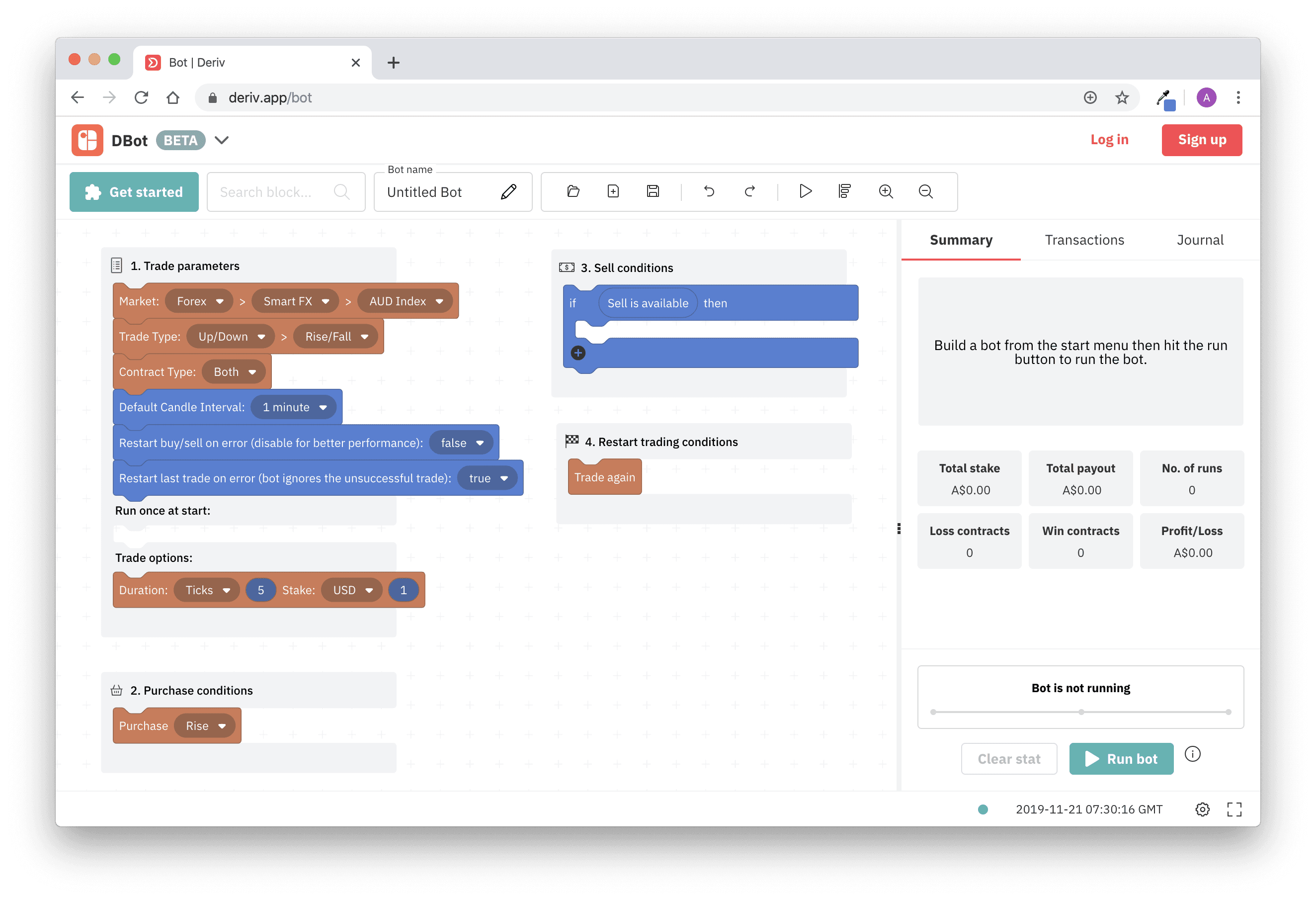 Of course, no trading bot is perfect, and DBot is no exception. While the bot is highly effective, it is still subject to market volatility and unpredictable price movements. This means traders should always exercise caution and use the bot to complement their trading strategies rather than relying on it entirely.
In conclusion, DBot Free Binary Options Trading Bot is a powerful, user-friendly tool that can help traders make more informed trading decisions and achieve better results.
DBot Free Binary Options Trading Bot
Visit Broker